Salmon is so versatile. There are a variety of ways to prepare your salmon: Bake It, Poach It, Roast It, Broil It, Sear It, Plank It or Grill It. But one thing to keep in mind, is you don't want to over cook it.
One of the easiest and best ways to prepare salmon is to grill it.
Prepare your catch
First prepare your fillets for the grill by rinsing the fish and patting it dry with a paper towel.
To flavor the fish, use a spice mixture that includes salt, ground black pepper, garlic, and fresh or dried herbs such as thyme, dill, or basil.
If you don't want to work with a dry rub, you can marinate your salmon with a mixture oil and citrus to keep the salmon moist and keep the fish from sticking to the grill. You don't want to marinate the fish for more than 30 minutes.
Grill your fish
Grill fish 3-4-inches from heat. Place salmon steak/fillet skin side up directly on the grill grate.
Grill the steaks/fillets for a total of 4-6 minutes (2-3 minutes per side) per ½ inch thickness, turning only once.
Salmon continues to cook after being removed from the grill. Cook salmon until the meat just begins to change color and becomes flaky. To check the salmon, insert the tip of a knife at the thickest part of the fish and pull slightly. Salmon will flake easily.
Thank you brochure
As a special bonus, Captain Alan will send you his favorite tips and recipes after your trip as his way of saying thanks for fishing with BigDogCharters.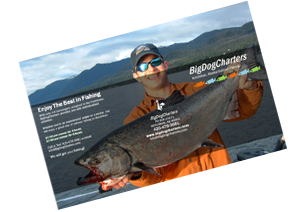 Call or Text (425) 478-3681 or email today to learn about booking your trip with BigDogCharters.